iMUSE - iMUSE for Wellbeing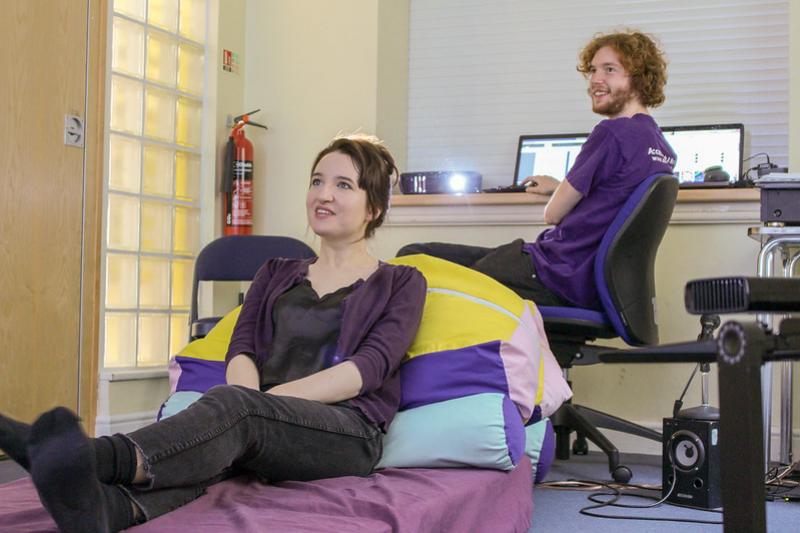 Project details
Location:

New Earswick Folk Hall, YO32 4AQ

Time:

Wednesdays between 9.30am - 6.30pm

Cost:

 £10 (subsidised and free places available)
iMUSE is a 1-to-1 therapeutic multi-sensory experience. It provides a safe space where you can relax, forget the outside world, feel anxiety and stress levels reduce, and take control of your wellbeing. 
iMUSE uses interactive technology to help you:
Relax – a vibrating mattress gently massages the body to a soothing rhythm. This helps calm and focus the mind, relax the muscles, and reduce anxiety and stress.

Make or listen to music –  you don't need any previous musical experience to make your own music with iMUSE. Motion sensors detect your movements and turn them into sounds. Or you can just listen to some of your favourite music.

Create visuals –  visuals respond to sounds in the room and iMUSE transforms them into calming moving images. Or you can choose your favourite images or video.
iMUSE is totally customisable, so you can design your experience to support your wellbeing, depending on how you're feeling on the day.  
Each 1-to-1 session lasts for 30 minutes. Our facilitator works with you to find out which sounds, music and visuals help you relax and focus. They then use these to personalise your iMUSE experience so it's tailor-made for you. 
Who benefits from iMUSE?
People who experience anxiety, stress, discomfort, and pain.
People experiencing mental ill-health.
People with a range of learning disabilities.
People with a range of physical disabilities and/or long-term health conditions.
People living with dementia and memory loss.
Young people who need 1-to-1 time to support them in engaging with others and the world around them.   
Anyone looking for a creative, interactive, or therapeutic activity that improves wellbeing.
Anyone who responds to and enjoys music and sound.
What benefits can iMUSE bring about?
Reducing feelings of stress and anxiety, and helping to control mood
Helping you focus, making it easier to concentrate on activities and the environment around you
Helping you prepare for traditional talking therapies by allowing you to be in control of your thoughts and anxiety levels so you're in a better frame of mind
Building confidence, resilience, and independence to help you connect or reconnect with others
Improving physical wellbeing by reducing pain and symptoms of fatigue, and improving sleep
Taking control of your own wellbeing by establishing a self-care routine
Finding enjoyment in being creative through technology
We also offer additional support so you can continue your iMUSE experience by building it into your regular self-care routine at home.
Do I need a referral to access iMUSE?
You can access iMUSE via several routes, including:
Self-referral – Take control of your wellbeing by getting in touch today.
Family Member – A family member can get in touch on your behalf.
Health Professionals – Ask your health professional about using iMUSE to complement other forms of healthcare.
Social Prescriber – Your social prescriber, NHS link worker or Local Area Coordinator can make a referral on your behalf.